Jiloca Industrial, S.A. manufacturing facilities are located in the locality of Santa Eulalia del Campo, in the plains of the province of Teruel (Spain).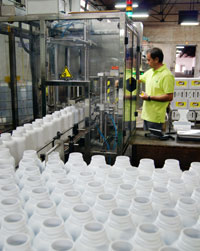 Its location obeys reasons among others, to the advantage to take profit of constructions and infrastructure property from Ebro Foods to which we belong.
Inside this complex, we have at one side the building which lodges the offices from where all the administration and the logistics of the company are managed, the factory itself and the laboratory.
The destined zones to manufacture our products are distributed with the following functions: Warehouse for the reception and storing of raw materials, warehouse with the formulation and packaging equipment, and finally the installations for the finished products storage and packages stock for its packaging.
Between the elements of our factory infrastructure we can find three great deposits for the liquid products storage. With them we facilitated the supplying of great amounts of raw material, to ensure the continuity of the manufacturing and by extension the guaranteed service to our customers.