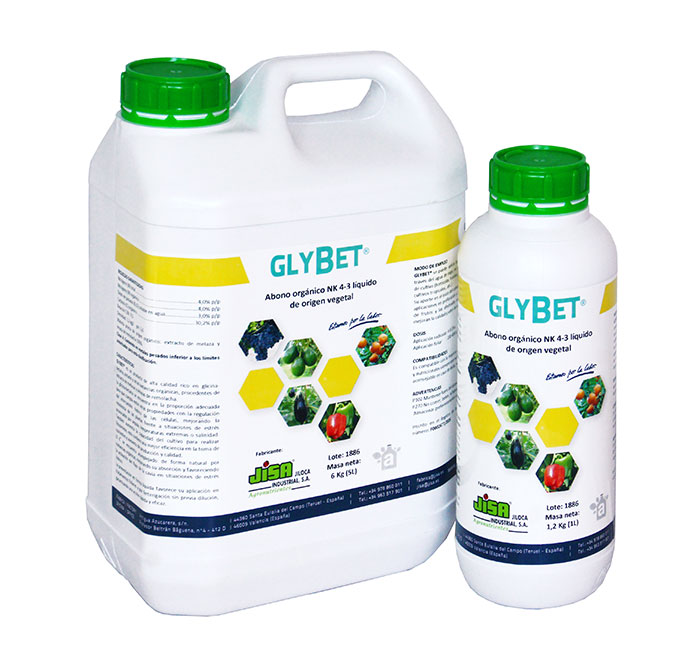 NK 4-3 LIQUID ORGANIC FERTILISER FROM VEGETAL ORIGIN
Biostimulant with osmoprotector effect
GUARANTEED RICHNESS
| | |
| --- | --- |
| Total nitrogen (N) | 4.00 % w/w |
| Organic nitrogen (N) | 4.00 % w/w |
| Potassium oxide(K2O)water soluble | 3.00 % w/w |
| Organic carbon (C) | 30.20 % w/w |
PROPERTIES
GLYBET® is a high quality product rich in glycine-betaine, potassium and other organic substances, from molasses and vinasse sugar beet extract.
The glycine-betaine is in the right proportion to fulfil, among other properties, the regulation of cells water exchange, improving the resistance of plants to stress caused by drought, extreme temperatures or salinity. It also increases the ability of the crop to perform photosynthesis, this leads into better efficiency in nutrient uptake and production and quality increasing.
The K+ is naturally complexed by organic substances, improving its absorption and favouring the activation of sap flow in water stress situations.
The liquid presentation promotes its foliar application and in fertigation treatments, without prior dilution, ensuring a quick and effective action.
INSTRUCTIONS FOR USE AND DOSAGE
GLYBET® can be applied by foliar application as well as through irrigation water system at any time and for all type of crops. Its contribution at the beginning of the cultivation improves the rooting, applications during (pre) flowering improves fruit setting and those applications during fattening improves the quality and taste of the same.
ROOT APPLICATION: 4-8 l/ha. Each application
FOLIAR APPLICATION: 200–400 cc/hl
COMPATIBILITIES
GLYBET® is compatible with most phytosanitary and nutritional products, as long as they do not have a very alkaline pH; In case of doubt, it is advisable to test beforehand.
PRESENTATION: 1; 5; 20; 220; Available 1.000 L in container.

Product usable in Organic Farming according to the Regulation (CE) Nº 834/2007 of the Council, of June 28, 2007, on production and labelling of organic products, subsequent modifications and extensions.