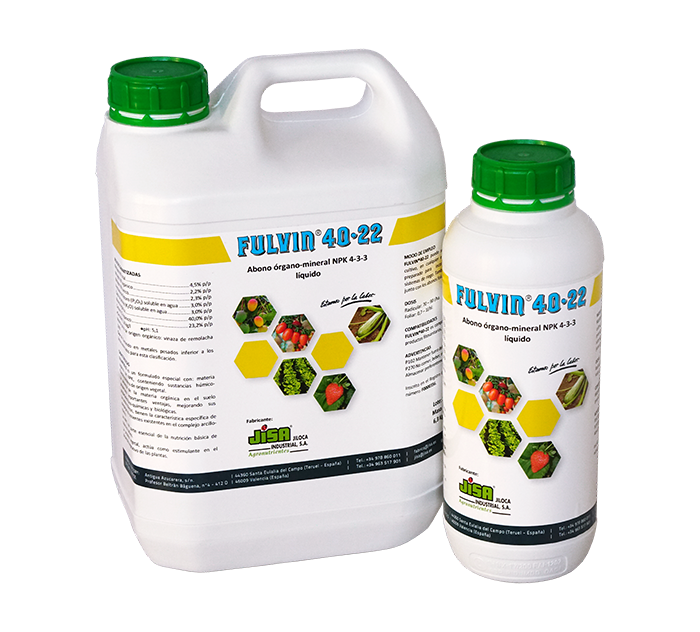 NPK 4-3-4 LIQUID ORGANO-MINERAL
Quick-acting vegetative biostimulant
GUARANTEED RICHNESS
| | |
| --- | --- |
| Total nitrogen (N) | 4.50 % w/w |
| Ammoniacal nitrogen (N) | 0.50 % w/w |
| Organic nitrogen (N) | 1.70 % w/w |
| Ureic nitrogen (N) | 2.30 % w/w |
| Phosphorus pentoxide (P2O5) water soluble | 3.00 % w/w |
| Potassium oxide (K2O) water soluble | 4.50 % w/w |
| Organic matter | 40.00 % w/w |
| Organic Carbon (C) | 23.20 % w/w |
PROPERTIES
FULVIN® 40-22 is a special formulation with NPK and vegetable origin organic matter rich in glycine-betaine and other substances that come from the yeasts fermentation.
The high concentration of organic matter increases the availability of nutrients in the soil for the plant.
Glycine-betaine gives it an osmoprotective effect against water stress.
FULVIN® 40-22 activates the microbiota of the soil, favouring the oxidation and reduction processes in the soil and the generation of natural microbial origin phytohormones that favour the root system of the plant, rejuvenate plant cells and improve the quality of the fruits.
INSTRUCTIONS FOR USE AND DOSAGE
FULVIN® 40-22 can be used in all types of crops, at any stage of the vegetative cycle. It is ready to be incorporated into the soil through irrigation systems. It can also be used by foliar application together with foliar fertilizers.
It is recommended to use 80 – 100 l/ha during the cycle as indicative dose, depending on the type of crop and the conditions in which it is found.
ROOT APPLICATION: 5-20 l/ha. Each application
FOLIAR APPLICATION: 300-500 cc/hl.
It's recommended to use together with NPK or/and other nutritional products.
COMPATIBILITIES
FULVIN® 40-22 is compatible with soluble fertilizers and phytosanitary products, whenever they have a low pH.
PRESENTATION: 1; 5; 20; 220 & 1.000 L.