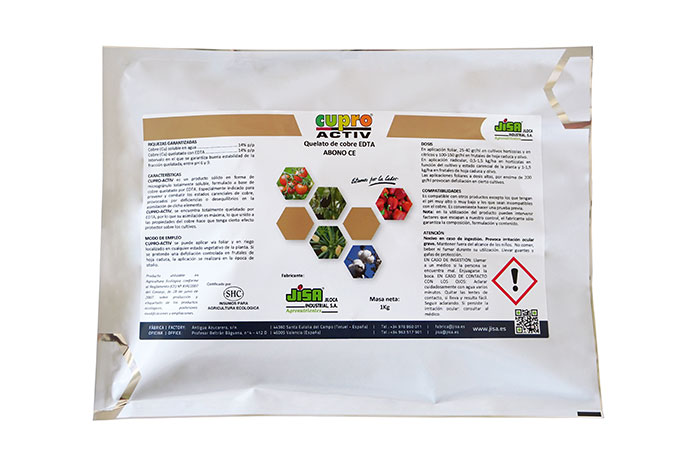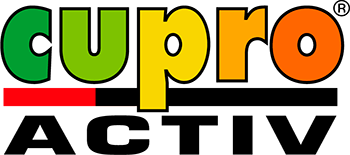 EC FERTILISER. COPPER EDTA CHELATED
EC FERTILISER
Specific copper chelated corrector
GUARANTEED RICHNESS
| | |
| --- | --- |
| Copper (Cu) total water soluble | 14.00 % w/w |
| Cobre (Cu) chelated con EDTA | 14.00 % w/w |
PROPERTIES
CUPRO-ACTIV® is a solid product in the form of a completely soluble micro-granule, formulated with a base of copper chelated by EDTA. It is especially indicated to prevent and combat copper shortages, caused by deficiencies or imbalances in the assimilation of that element.
It is completely chelated by EDTA, obtaining a maximum absorption, which together with the properties of copper properties it provides a certain beneficial effect on the crops.
INSTRUCTIONS FOR USE AND DOSAGE
If the purpose is to cause controlled defoliation on fruit tres with deciduous leaf, apply it during autumn and for cotton apply i before harvest.
| | |
| --- | --- |
| CROP | FOLIAR APPLICATION |
| Vegetables & citrus | 25-40 g/hl |
| Deciduous leaf trees & olive trees | 100-150 g/hl |
Foliar applications at high doses, above 200 g/hl, cause defoliation in certain crops
| | |
| --- | --- |
| CROP | ROOT APPLICATION |
| Vegetables | 0,5-1,5 kg/ha depending on the crop and shotage of the plant |
| Deciduous leaf trees & olive trees | 1-1,5 kg/ha |
COMPATIBILITIES
CUPRO-ACTIV® is compatible with other products except those with very high or very low pH and those that are incompatible with copper. It is convenient to do a previous test.
PRESENTATION: 1; 5; 20 Kg