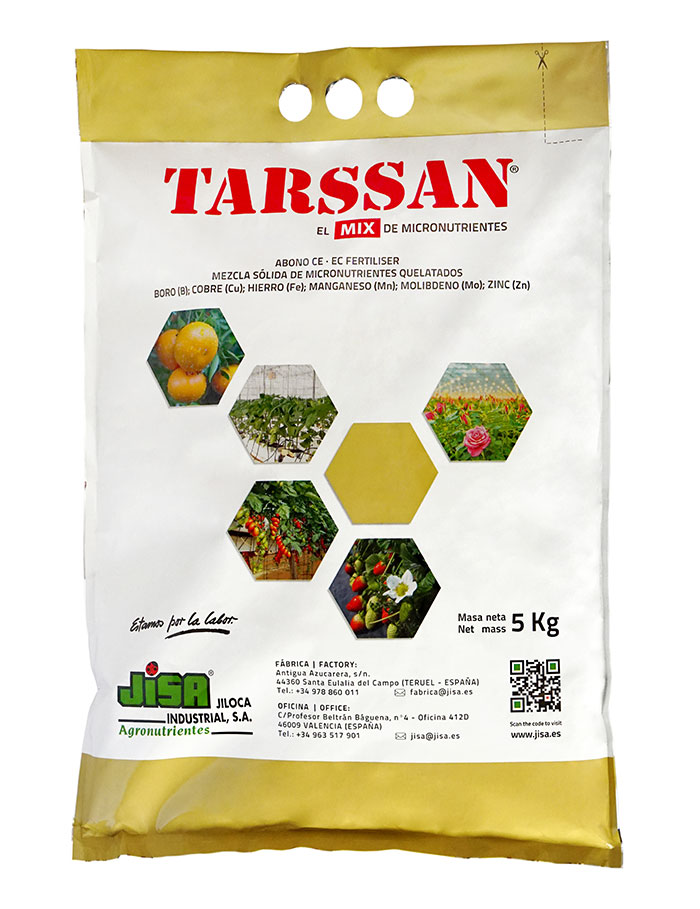 SOLID MIXTURE OF CHELATED MICRONUTRIENTS BORON (B), COPPER (Cu), IRON (Fe), MANGANESE (Mn), MOLYBDENUM (Mo) AND ZINC (Zn)
EC FERTILISER
Microelements chelated mix
GUARANTEED RICHNESS
| | |
| --- | --- |
| Boron (B) water soluble | 0,50 % w/w |
| Copper (Cu) water soluble | 0,30 % w/w |
| Copper (Cu) EDTA chelate | 0,30 % w/w |
| Iron (Fe) water soluble | 7,40 % w/w |
| Iron (Fe) EDTA chelate | 7,40 % w/w |
| Manganese (Mn) water soluble | 3,50 % w/w |
| Manganese (Mn) EDTA chelate | 3,50 % w/w |
| Molybdenum (Mo) water soluble | 0,20 % w/w |
| Zinc (Zn) water soluble | 0,60 % w/w |
| Zinc (Zn) EDTA chelate | 0,60 % w/w |
PROPERTIES
TARSSAN® MIX is a solid mixture of chelated micronutrients in the form of soluble microgranules, prepared for the correction and prevention of multiple deficiencies. Its high solubility and the EDTA chelate form, allow the plant a quick assimilation and a total use of the product.
INSTRUCTIONS FOR USE AND DOSAGE
TARSSAN® MIX is a very suitable product for hydroponic crops.
DRIP IRRIGATION: 1 to 1,5 kg/ha and week
HYDROPONIC CULTIVATION: 4–5 g/hl
SEEDBED: 0,3 – 0,4 g/l of peat or substrate
COMPATIBILITIES
TARSSAN® MIX is compatible with soluble fertilisers. Do not mix with oils or products that contain them.
PRESENTATION: 1; 5; 20 Kg