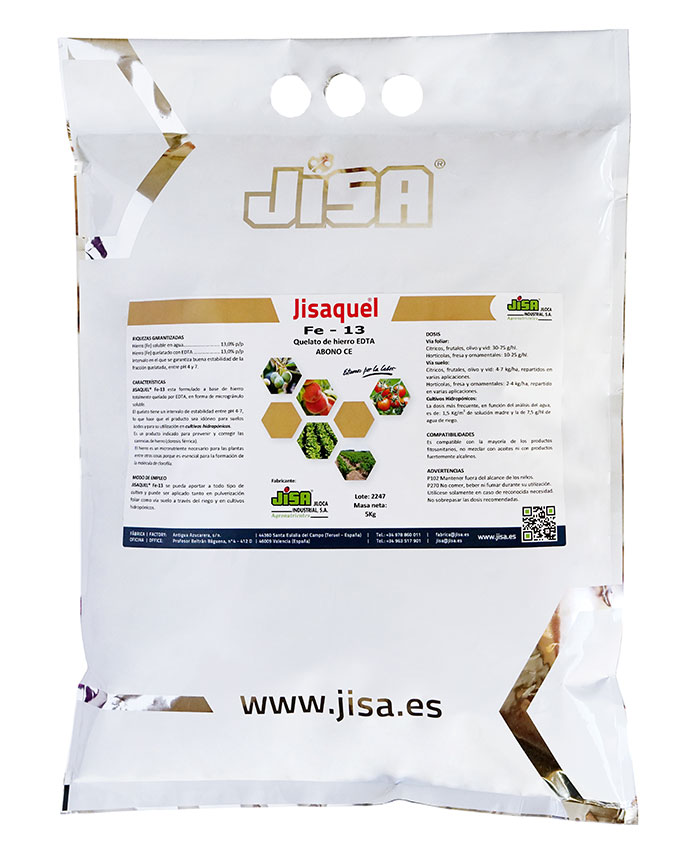 EC FERTILISER. IRON EDTA CHELATED
Specific iron chelated corrector
GUARANTEED RICHNESS
| | |
| --- | --- |
| Iron (Fe) total water soluble | 13.00 % w/w |
| Iron (Fe) chelated with EDTA | 13.00 % w/w |
PROPERTIES
JISAQUEL® Fe-13 is formulated with iron totally chelated by EDTA, in the form of a soluble microgranule.
The chelate has a range of stability between pH 4-7, which makes the product suitable for acid soils and for use in hydroponic crops. It is a product indicated to prevent and correct iron deficiencies (iron chlorosis).
Iron is a necessary micronutrient for plants among other things because it is essential for the formation of the chlorophyll molecule.
INSTRUCTIONS FOR USE AND DOSAGE
| | |
| --- | --- |
| CROP | FOLIAR APPLICATION |
| Citrus, fruit trees, olive tree & vine | 30-75 g/hl |
| Vegetables, strawberry & ornamental | 10-25 g/hl |
| | |
| --- | --- |
| CROP | ROOT APPLICATION |
| Citrus, fruit trees, olive tree & vine | 4-7 Kg divided in several applications |
| Vegetables, strawberry & ornamental | 2-4 Kg divided in several applications |
APPLICATION IN HYDROPONIC CROPS
The most frequent dose, depending on the water analysis, is 1,5 kg / m3 of the main solution and 7.5 g / hl of irrigation water
COMPATIBILITIES
JISAQUEL® Fe-13 is compatible with most phytosanitary products, do not mix with oils or strongly alkaline products
PRESENTATION:1; 5; 20 Kg