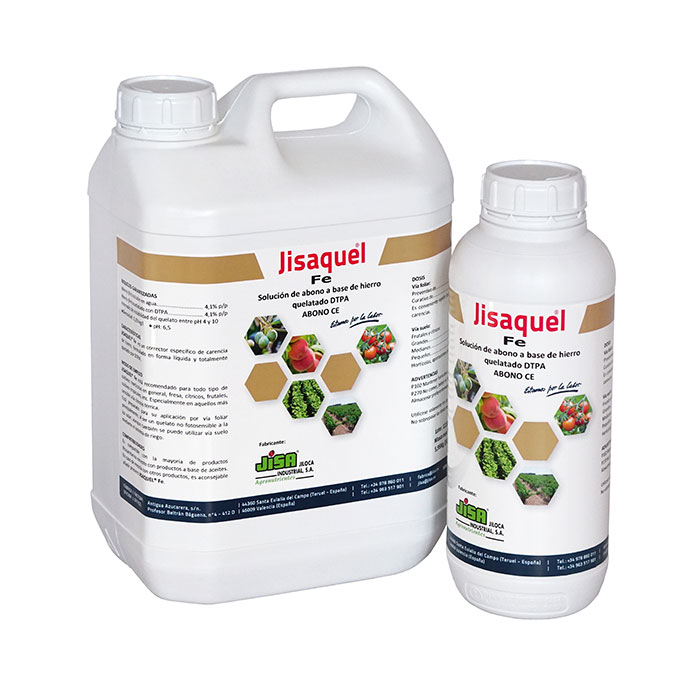 EC FERTILISER. DTPA CHELATED IRON FERTILIZER SOLUTION
DTPA iron chelated
GUARANTEED RICHNESS
| | |
| --- | --- |
| Iron (Fe) total water soluble | 4,10 % w/w |
| Iron (Fe) chelated with DTPA | 4,10 % w/w |
PROPERTIES
JISAQUEL® Feis a specific iron shortage corrector, formulated in liquid form and totally chelated by DTPA.
INSTRUCTIONS FOR USE AND DOSAGE
JISAQUEL® Fe is recommended especially for those crops more sensitive to iron chlorosis. It is mainly prepared for foliar application, being a chelate not photosensitive to sunlight, but can also be used by the root irrigation system.
| | |
| --- | --- |
| TREATMENT | FOLIAR APPLICATION |
| Preventive | 100 to 150 cc/hl |
| Curative | 200 to 250 cc/hl |
It is convenient to repeat the treatment according to the shortages.

CROPS
ROOT APPLICATION
Fruit trees & citrus
Full production
40-75 cc/tree
Production
25-50 cc/tree
Young tree
18-25 cc/tree
Vegetables
Contributions of 4 to 5 l/ha
COMPATIBILITIES
It is compatible with the main of phytosanitary products except with products based on oils. In case of mixing with other products, it is advisable to first add JISAQUEL® Fe.
PRESENTATION:1; 5; 20 L