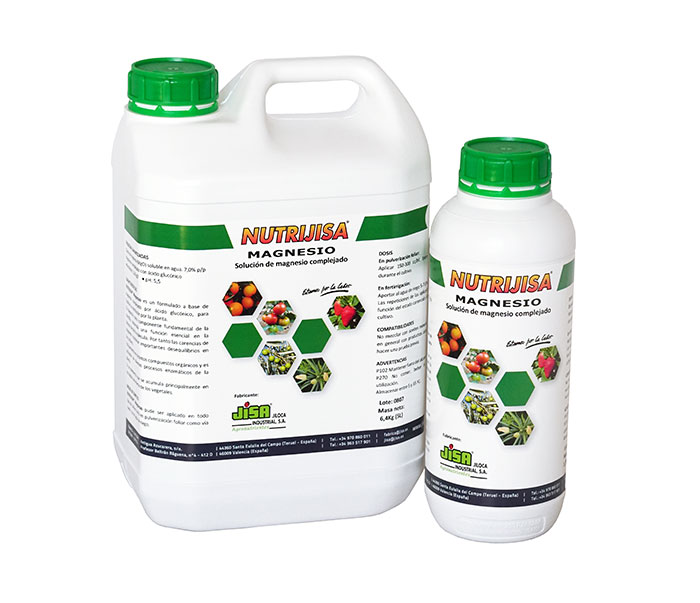 COMPLEXED MAGNESIUM SOLUTION
Magnesium gluconate
GUARANTEED RICHNESS
| | |
| --- | --- |
| Magnesium oxide (MgO) water soluble | 7.00 % w/w |
| Magnesium complexed with gluconic acid | |
PROPERTIES
NUTRIJISA® MAGNESIO is magnesium based formulated complexed by gluconic acid, to facilitate its assimilation by the plant.
Magnesium, as a fundamental component of chlorophyll, plays an essential role in the synthesis of this molecule. Therefore, magnesium deficiencies cause important imbalances in crops. Magnesium is present in different organic compounds and is an activator of various enzymatic processes of the plant. It is an element that accumulates mainly in the tissues reserve of the plants
INSTRUCTIONS FOR USE AND DOSAGE
FOLIAR APPLICATION
Apply 100 – 250 cc/hl
Between 2 and 3 applications during crop cycle.
ROOT APPLICATION
Provide to irrigation water between 5 and 10 l/ha in each application.
The repetitions of the applications will be made according to the deficiency state and the crop needs.
COMPATIBILITIES
Do not mix with mineral oils, phosphates, sulphates, humic acids and in general with alkaline products. It is convenient to do a previous test.
PRESENTATION: 1; 5; 20 L