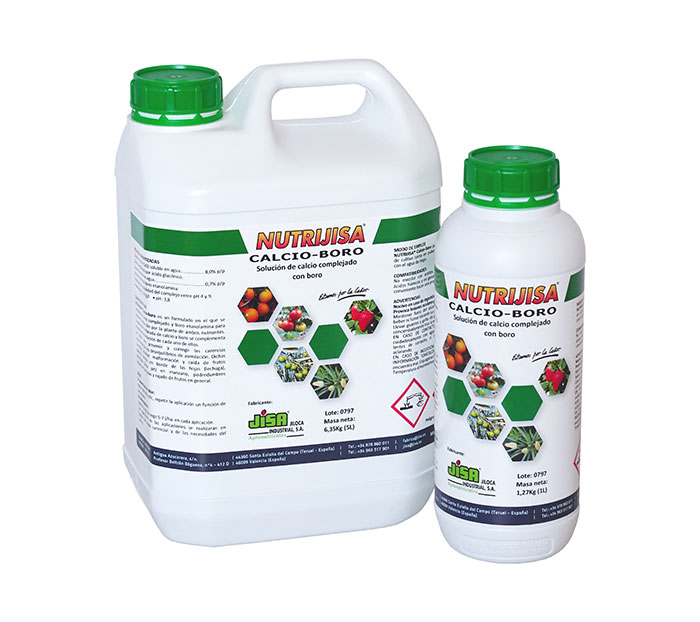 COMPLEXED CALCIUM WITH BORON SOLUTION
Calcium gluconate with boron
GUARANTEED RICHNESS
| | |
| --- | --- |
| Calcium oxide (CaO) water soluble | 8.00 % w/w |
| Calcium complexed with gluconic acid | |
| Boron (B) water soluble | 0.70 % w/w |
| Boron (B) in the form of boron ethanolamine | |
PROPERTIES
NUTRIJISA® CALCIO-BORO is a formulation in which complexed calcium and boron ethanolamine are combined to improve the absorption by the plant of both nutrients. The combined application of calcium and boron complements and favors the assimilation of each of them.
It is used to prevent and correct deficiencies caused by lack of assimilation.
These deficiencies cause malformation and fall of young fruits, necrosis at the edge of the leaves (lettuce), corky (bitter pit) in apple tree, apical rotting in vegetables and fruit splitting in general.
INSTRUCTIONS FOR USE AND DOSAGE
FOLIAR APPLICATION
Apply 200 – 300 cc/hl
Repeat application if necesary
ROOT APPLICATION
Provide to irrigation water between 5 and 7 l/ha in each application.
The repetitions of the applications will be made according to the deficiency state and the crop needs.
COMPATIBILITIES
Do not mix with mineral oils, phosphates, sulphates, humic acids and in general with alkaline products. It is convenient to do a previous test.
PRESENTATION: 1; 5; 20 L