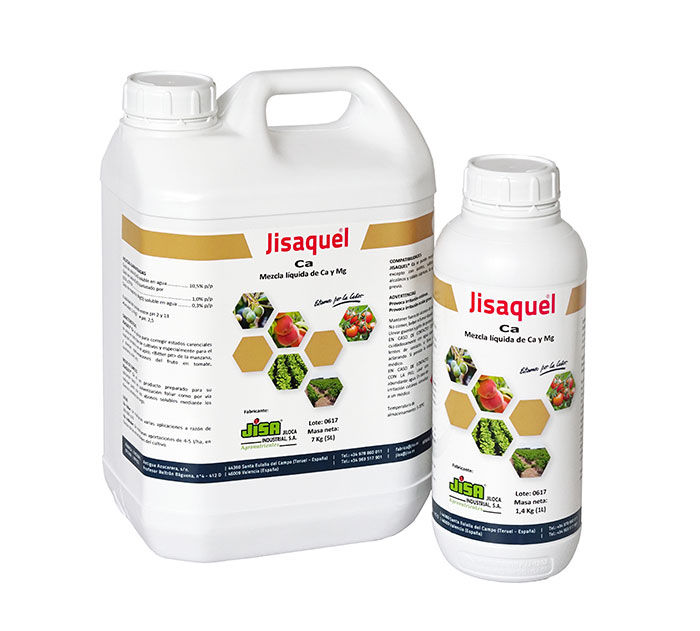 LIQUID MIXTURE OF CALCIUM AND MAGNESIUM
Calcium quelate DTPA/EDTA
GUARANTEED RICHNESS
| | |
| --- | --- |
| Total calcium oxide (CaO) water soluble | 10,50 % w/w |
| Calcium oxide (CaO) EDTA chelate and DTPA | 1,00 % w/w |
| Magnesium oxide (MgO) water soluble | 0,30 % w/w |
PROPERTIES
JISAQUEL® Cais applied to correct deficiencies of calcium in all types of crops and especially for the «bad heart» in celery; «Bitter pit» of the apple, and several bad formations of the fruit in tomato, carrot, cabbage, etc.
INSTRUCTIONS FOR USE AND DOSAGE
FOLIAR APPLICATION:Several applications will be made at a rate of 200-300 cc/hl
ROOT APPLICATION : Contributions of 4 – 5 l/ha will be made depending on the crop needs
COMPATIBILITIES
JISAQUEL® Ca can be mixed with other products except oils, sulphates, phosphates, alkaline products and liquid copper. It is recommended to do a previous test.
PRESENTATION:1; 5; 20 L