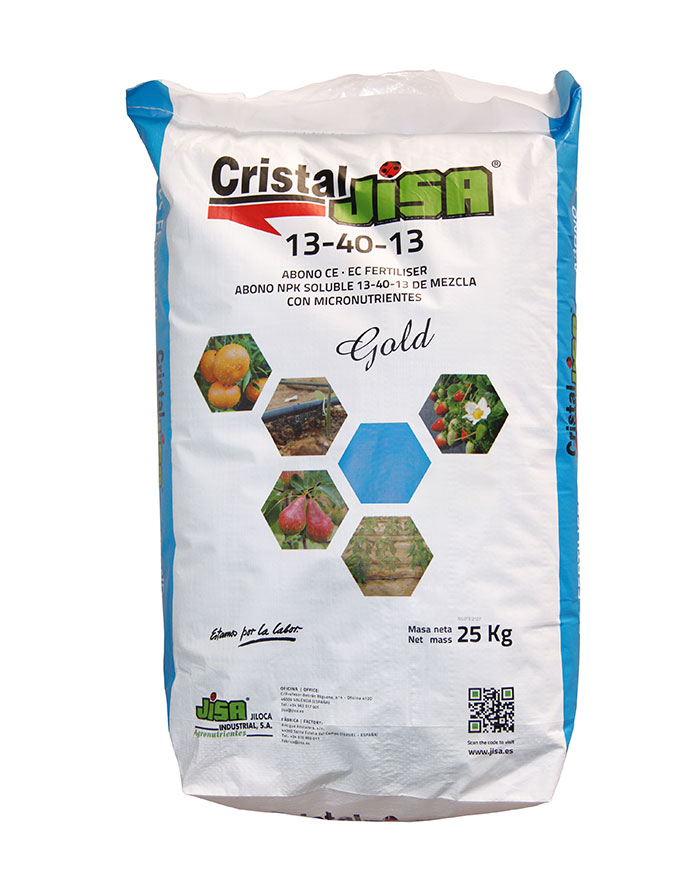 EC FERTILISER. BLENDED NPK 13-40-13 FERTILISER WITH CHELATED MICRONUTRIENTS
NPK Enriched Phosphorus crystalline fertiliser
GUARANTEED RICHNESS
| | |
| --- | --- |
| Nitrógeno (N) total | 13.00 % w/w |
| Ammoniacal nitrogen (N) | 8.10 % w/w |
| Nitric nitrogen (N) | 3.80 % w/w |
| Ureic nitrogen (N) | 1.10 % w/w |
| Phosphorus pentoxide (P2O5)water soluble | 40.00 % w/w |
| Phosphorus pentoxide(K2O)water soluble | 13.00 % w/w |
| Boron (B) water soluble | 0.01 % w/w |
| Iron (Fe) EDTA chelate water soluble | 0.05 % w/w |
| Manganese (Mn) EDTA chelate water soluble | 0.05 % w/w |
| Molibdeno (Mo) water soluble | 0.001 % w/w |
| Zinc (Zn) EDTA chelate water soluble | 0.01 % w/w |
PROPERTIES
CRISTALJISA® 13-40-13 is a soluble NPK crystalline fertiliser, with high phosphorus concentration (P2O5), enriched with magnesium (0.4% MgO) and chelated micronutrients. It´s made with the best raw materials, without chlorides. The choice of balance depends mainly on the type of crop and also on the vegetative stage at the moment of application.
Because of its purity and quality, our soluble fertilisers are used by the most demanding farmers. They are applied by fertirrigation in all types of crops, both outdoors and under cover.
INSTRUCTIONS FOR USE AND DOSAGE
CRISTALJISA® 13-40-13 is NPK equilibrium with a high content of phosphorus, ideal to induce in rooting after transplantation and in the flowering phase of all crops in general.
ROOT APPLICATION: 10 – 20 kg/ha NPK preader application
IN IRRIGATION SYSTEM BY INJECTION :Main solution: 100 kg/1000 L of water. Final concentration in irrigation water 0.5 to 2.5 g/L
PRESENTATION: 25 KG