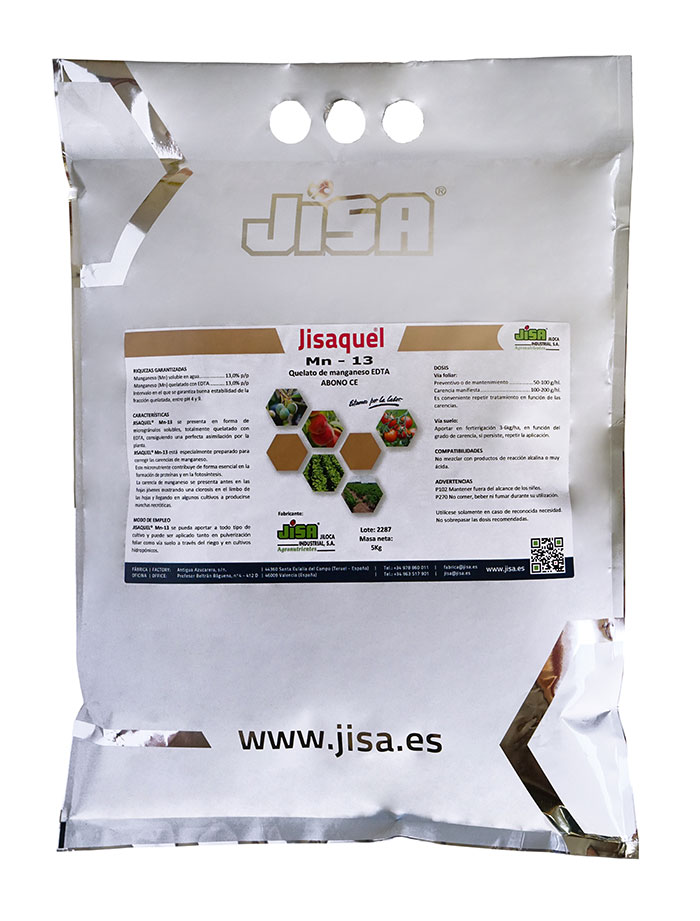 EC FERTILISER. MANGANESE EDTA CHELATED
Specific manganese chelated corrector
GUARANTEED RICHNESS
| | |
| --- | --- |
| MManganese (Mn) total water soluble | 13.00 % w/w |
| Manganese (Mn) chelated with EDTA | 13.00 % w/w |
PROPERTIES
JISAQUEL® Mn-13 is presented in the form of soluble microgranules, completely chelated by EDTA, achieving a perfect assimilation by the plant.
This micronutrient mainly contributes in the process of proteins formation and photosynthesis. Manganese shortage appears first in young leaves where chlorosis shows up in the limb and causing necrotic spots in some crops.
INSTRUCTIONS FOR USE AND DOSAGE
FOLIAR APPLICATION
Preventive or maintenance: 50 – 100 g/hl
Manifest lack: 100 – 200 g/hl
It is convenient to repeat the treatment according to the deficiencies.
ROOT APPLICATION
Provide in fertirrigation 3-6 kg/ha depending on the degree of deficiency.
If it persists, repeat the application.
COMPATIBILITIES
Do not use JISAQUEL® Mn-13 with products of alkaline or very strong acid reaction.
PRESENTATION:1; 5; 20 Kg