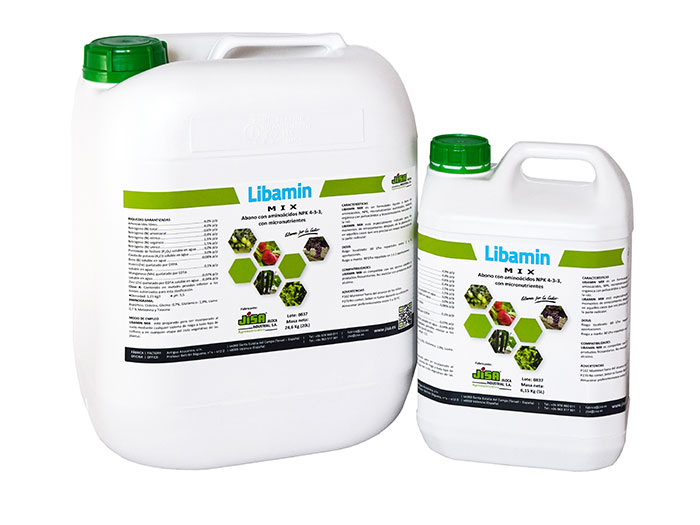 NPK 4-3-3 FERTILISER WITH AMINO ACIDS AND MICRONUTRIENTS
Root system activator
GUARANTEED RICHNESS
| | |
| --- | --- |
| Free amino acids | 4.00 % w/w |
| Total nitrogen (N | 4.00 % w/w |
| Ammoniacal nitrogen (N) | 0.60 % w/w |
| Organic nitrogen (N) | 1.50 % w/w |
| Ureic nitrogen (N) | 1.50 % w/w |
| Phosphorus pentoxide (P2O5) water soluble | 3.00 % w/w |
| Potassium oxide (K2O) water soluble | 3.00 % w/w |
| Boron (B) water soluble | 0.08 % w/w |
| Iron (Fe) water soluble EDTA chelated | 0.10 % w/w |
| Manganese (Mn) water soluble EDTA chelated | 0.07 % w/w |
| Zinc (Zn) water soluble EDTA chelated | 0.04 % w/w |
* AMINOGRAM: Aspartic, Cysteine, Glycine, Glutamic, Lysine, Methionine and Tyrosine.
PROPERTIES
LIBAMIN MIX is a liquid formula based on NPK with chelated micronutrients containing amino acids for the stimulation of the root system.
It's especially indicated for the moments of rooting after the plantation and in those cases that a greater development of the radicular part is necessary.
INSTRUCTIONS FOR USE AND DOSAGE
LIBAMIN MIX is ready to be incorporated into the soil by any irrigation system to all types of crops and at any stage of the vegetative cycle of the plants.
LOCALIZED IRRIGATION: 60 l/ha divided between 2 and 4 contributions
FLOOD SYSTEMS IRRIGATION: 80 l/ha divided into 1 or 2 contributions
COMPATIBILITIES
LIBAMIN MIXis compatible with soluble fertilisers and phytosanitary products. Do not mix with alkaline pH products.
PRESENTATION:1; 5; 20; Available in 1.000 L container.